---
Monday, 3 November
Attendees checked in so far: 467
The first day of RIPE 69 was busy! While it rained outside, it was toasty inside thanks to the hum of monitors, laptops and yes, a Dalek. The morning started with three parallel tutorials: getdns API, an Introduction to RIPE Meetings (featuring an interactive gaming element) and Basic RIPE NCC Tools for Network Diagnostics and Monitoring. Before lunch, newcomers were 'schooled' by Axel Pawlik, RIPE NCC's Managing Director, and Hans Petter Holen, RIPE Chair, in RIPE Meeting 101 at the (revamped) Newcomers' Introduction session.
The Main Room filled up quickly for the Opening Plenary and it was evident that RIPE 69 is likely to become the biggest RIPE Meeting to date with close to 500 attendees checked in so far. Highlights of the plenary sessions included:
A showdown between a Dalek and John Souter, CEO for LINX (no sign of 'termination' yet though)

The quirky and challenging aspects of community networking in Scotland

Developments of iGDP in Africa

An engaging discussion on using RIPE Atlas data to check if the Internet is asymmetric and if it helps to mitigate DDoS

Whether or not prices for transit based on the length of cables changes over time
You can see all of Monday's plenary presentations online.
And of course, the day was capped with a couple of socials: Meet the Executive Board and the RIPE 69 Welcome Drinks.
---
Tuesday, 4 November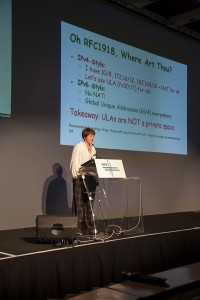 The clouds parted in London on Tuesday but the sunshine didn't keep attendees away from a full day of plenary sessions on day two of RIPE 69.
Highlights from the morning plenary sessions:
Reconstructing, analysing and selecting complex events in real time using commodity hardware

An exploration of network capacity with SDN vs. L3 MPLS OpenFlow rules complete with homemade NGI "tower router" in a few thousand units

A long queue at the mics and a lively discussion between ICANN's Brett Carr and attendees on his presentation "Name Collision Controlled Interruption"
Buzzing with caffeine (thanks LONAP for sponsoring the Barista!) and with bags stuffed full of giveaways, attendees hunkered down for more plenary sessions in the afternoon. Highlights included: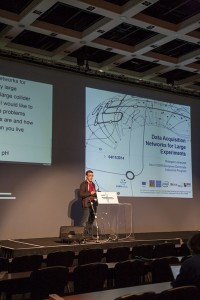 Lightning talks on DNSSEC implementation, funding models for Open Source software and a plan for a repository of "golden prefixes"

A shift to IPv6 with presentations about deployment myths and facts and another about IPv4 service continuity for IPv6 data centres

Using Tor during the Arab Spring, how it works, the privacy advantages of hidden services, managing bandwidth, latency and congestion

Cybersecurity legislation, especially how the top-down approach could influence the day-to-day life and operations of the Internet when compared to bottom-up regulation

A glimpse of uProxy, a way to drastically lower the bar for the average users to access the Internet securely, without being monitored
The day's programme concluded with a RIPE Academic Cooperation Initiative (RACI) session and a Network Operators Forum (NOF) BoF. Attendees unwound after a busy day at the Party at the Jewel Piccadilly, sponsored by LINX.
---
Wednesday, 5 November
Attendees checked in so far: 573
Day three of RIPE 69 marked the first day of RIPE Working Group (WG) sessions. The morning sessions included the Address Policy Working Group, the Open Source Working Group and the Connect Working Group. Highlights included:
Address Policy:
Discussions on a number of open policies, including inter-RIR transfers, relaxing the IPv6 requirement for /22 allocations, removing the multi-homing requirement for AS Numbers, and IPv6 and AS Number transfer policies
If consensus is reached, a new proposal will be created to combine the IPv4, IPv6 and AS Number transfer policies into one single "Internet number resource transfer policy".
There are around 70 cases of organisations opening new LIRs, requesting /22 allocations from the last /8, and then transferring these allocations and closing the new LIR. The WG decided it would work on a policy to establish a two-year holding period for these /22 allocations in which they cannot be transferred.
Open Source:
Updates on ExaBGP (current release considered stable), BIRD and Quagga (several patches to improve and people wanted these in the code)
Discussion about the process for selecting new WG chairs; discussion to continue on the mailing list
Connect:
A look at the social aspect of interconnection from RACI attendee Uta Meier-Hahn, Alexander von Humboldt Institute for Internet and Society
"Keep Calm and Focus on Prefixes": best practice sharing and how to get the most out CDNs
The afternoon's sessions included Anti-Abuse Working Group, MAT Working Group and RIPE NCC Services. Highlights included:
Anti-Abuse:
A look at RIPE NCC security outreach activities
Tor censorship counter-measures and how you can help
An active question and answer period following Tomas Hlavacek's presentation about rom-0 vulnerability in SOHO routers
MAT:
A comparison by Randy Bush, Internet Initiative Japan, of RIPE Atlas and NLNOG RING nodes as platforms for measuring global average RTTs. His conclusion? "These probes are just the size of my thumb, and they're not bad!"
An overview of OpenIPMap, an open and crowdsourced project to map IPs and hostnames to geographical locations, which is now included in RIPE Atlas' new traceroute results interface.
RIPE NCC Services: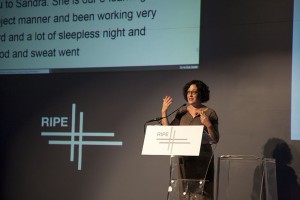 RIPE NCC Executive Board members Salam Yamout and Maria Häll introduced their initiative for RIPE NCC services to support the good of the Internet and asked for community feedback
2007-01 almost completed
Launch of RIPE NCC Academy
Comments from attendees about the desire to have a unified process for WG Chair terms
Requests for the RIPE NCC to create guidelines to raise awareness of best common practices when transferring resources to minimising risk of hijacking and to send an update on 2007-08 implementation to the RIPE NCC Services mailing list
Hope you all enjoyed the night off and saw some fireworks for Guy Fawkes night!
---
Thursday, 6 November
Attendees checked in so far: 597
Day four of RIPE 69 was the second day of RIPE Working Group (WG) sessions. Highlights from the day's sessions included:
IPv6:
RIPE NCC's experience with IPv6 and RIPE Atlas anchor operators
IPv6 deployment in Germany's government network
A discussion about the BCOP Task Force document "IPv6 Troubleshooting for Residential ISP Helpdesks"; the comment period will be extended for two weeks on the mailing list
Co-chairs Marco Hogewoning and Shane Kerr stepped down and welcomed incoming co-chairs Jen Linkova, Benedikt Stockebrandt and Dave Wilson
DNS:
An update on RIPE NCC DNS activities including a problem in algorithm roll-over in DNSSEC
Attacks and abuses of the DNS system
A lively discussion with George Michaelson's presentation about issues associated with using ECDSA in DNSSEC and weaknesses due to the lack of signalling in the protocol
Cooperation:
An active discussion on IANA stewardship transition and ICANN accountability issues
Randy Bush, IIJ, presented about Cryptech and asked the community to support the project
Political discussions on operating a socially responsible ISP and grassroots engagement of the EU parliamentary process
Routing:
A lively discussion on how strict operators should be when filtering
A quantitative analysis of BGP Route leaks
An explanation of the reasons for RPKI invalid states on the global Internet and how not every invalid is as problematic as the other
A big thank you from the audience for Joao Damas who is stepping down as co-chair after 12 years of service; people have until RIPE 70 to step forward if they'd like to become a co-chair
RACI fellow, Alberto Rodriguez-Natal, talked about the LISP protocol and use cases for LISPmob
A discussion about homenet with a request to contribute to the discussions in the IETF
Database:
Wilfried Woeber has stepped down as WG Chair after many years of dedicated service. The WG thanked him and two volunteers stepped up for the job, Job Snijders and Piotr Strzyzewski
During Tim Bruijnzeels's RIPE Database Operational Update, the proposal to replace the "changed:" attribute with "last-modified:" / "created:" sparked a lively discussion between audience members and RIPE NCC staff; the details will be worked out on the mailing list.
Job Snijders's proposal to "revive" the Working Group received a lot of comments, and Nathalie Trenaman from the RIPE NCC used the opportunity to explain some of their plans for improving the user interface for the RIPE Database. There were suggestions from the audience to adjust the way the "abuse-c:" attribute is being used in the RIPE Database and a lengthy discussion ensued.
---
Friday, 7 November
The final day of RIPE 69 started out with an update from the Regional Internet Registries, the Number Resource Organization, and the Internet Assigned Numbers Authority (IANA).
Voting took place for the RIPE Programme Committee (PC) to fill the seats left by Will Hargrave and Job Snijders stepping down. The two new members elected were Marcus Stoegbauer and Leslie Carr.
Menno Schepers from the RIPE NCC gave a technical overview for the meeting. A RIPE Atlas probe helped monitor the network throughout the week, and showed the performance remained at a high level throughout.
Wilfried Woeber was appointed to the Number Resource Organization Number Council (NRO NC) by the RIPE NCC Executive Board. Wilfried will serve a three-year term from 1 January 2015 to 31 December 2017.
The closing plenary also included three lightning talks on topics spanning UDP Internet connections, BGP modeling and a look at rogue IP addresses stalking HTTP traffic.
Chris Buckridge of the RIPE NCC gave an update on the ITU Plenipotentiary 2014, where several RIPE community members took part in various member state delegations. The meeting highlighted the importance of engaging with governments and technical communities across the RIPE NCC service region.
RIPE Chair Hans Petter Holen closed the meeting with an overview of what turned out to be the biggest RIPE Meeting to date, with 609 attendees checked in – nearly a third of which were newcomers.
RIPE 70 will be held from 11-15 May at the Hotel Okura in Amsterdam, the Netherlands.