Novotel London West Hotel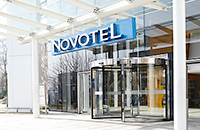 Novotel London West Hotel is the RIPE 69 Meeting Venue. The hotel offers RIPE Meeting attendees a room rate of £ 159 (about EUR 202) per night on Friday, Saturday and Sunday before an after the meeting and £ 179 (about EUR 227) on Monday to Thursday. The rates include breakfast, Internet access, VAT and city tax. This discounted rate expired on 17 October 2014.
Alternative Accommodation
You can choose from a number of hotels within walking distance. The RIPE NCC neither recommends nor guarantees the quality of the hotels listed. Alternative hotel options can be found via booking.com, hotels.com or through a travel agent.
So Sienna
38-40 Glenthorne Road, London
+44 20 3138 4039
Rates start from EUR 129 including breakfast and WiFi
Distance: 10 min walking
Best Western Plus Seraphine Hammersmith Hotel
84 King Street, London
+44 20 8600 0555
Rates start from EUR 149 including breakfast and WiFi
Distance: 10 min walking
Golden Strand Hotel
85 Shepherds Bush Road, London
+44 20 7603 7384
Rates start from EUR 65 including breakfast and WiFi
Distance: 11 min walking
Royal Guest House
105 Shepherds Bush Rd, London
+44 207 603 0457
Rates start from EUR 70 including breakfast and WiFi
Distance: 11 min walking
Saba Hotel London
101-103 Shepherds Bush Road, London
+44 20 7603 6777
Rates start from EUR 61 including breakfast and WiFi
Distance: 11 min walking
Holiday Inn Express London-Hammersmith
124 King Street, London
+44 20 8746 5100
Rates start from EUR 175 including breakfast and WiFi
Distance: 12 min walking
London Grove Hotel
102 Hammersmith Grove, London
+44 20 8563 7712
Rates start from EUR 74 including breakfast and WiFi
Distance: 12 min walking
Comfotel GRN
120 Shepherds Bush Road, London
+44 20 7603 4409
Rates start from EUR 128 including breakfast and WiFi
Distance: 12 min walking
Comfotel BLU
114 Shepherds Bush Road, London
+44 2076 031108
Rates start from EUR 75 including breakfast and WiFi
Distance: 12 min walking
Royal London Hotel
47 Shepherds Bush Road, London
+44 20 7603 4528
Rates start from EUR 67 including breakfast and WiFi
Distance: 14 min walking
Sapphire Hotel London
35 Shepherds Bush Road, London
+44 20 7603 0707
Rates start from EUR 95 including breakfast and WiFi
Distance: 14 min walking
Hotel Balkan
33 Shepherds Bush Road, London
+44 20 7603 7596
Rates start from EUR 62 including breakfast and WiFi
Distance: 14 min walking
Premier Inn London Hammersmith
255 King Street, London
+44 871 527 8660
Rates start from EUR 175 including WiFi; breakfast – 11
Distance: 15 min walking
Chiswick Rooms
407 Goldhawk Rd, London
+44 20 3307 0400
Rates start from EUR 127 including breakfast and WiFi
Distance: 25 min walking