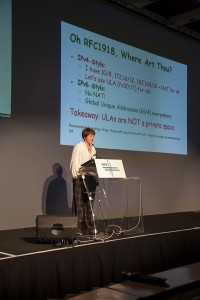 The clouds parted in London on Tuesday but the sunshine didn't keep attendees away from a full day of plenary sessions on day two of RIPE 69.
Highlights from the morning plenary sessions:
Reconstructing, analysing and selecting complex events in real time using commodity hardware

An exploration of network capacity with SDN vs. L3 MPLS OpenFlow rules complete with homemade NGI "tower router" in a few thousand units

A long queue at the mics and a lively discussion between ICANN's Brett Carr and attendees on his presentation "Name Collision Controlled Interruption"
Buzzing with caffeine (thanks LONAP for sponsoring the Barista!) and with bags stuffed full of giveaways, attendees hunkered down for more plenary sessions in the afternoon. Highlights included: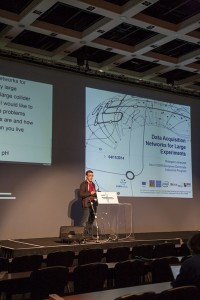 Lightning talks on DNSSEC implementation, funding models for Open Source software and a plan for a repository of "golden prefixes"

A shift to IPv6 with presentations about deployment myths and facts and another about IPv4 service continuity for IPv6 data centres

Using Tor during the Arab Spring, how it works, the privacy advantages of hidden services,

 

managing bandwidth, latency and congestion

Cybersecurity legislation, especially how the top-down approach could influence the day-to-day life and operations of the Internet when compared to bottom-up regulation

A glimpse of uProxy, a way to drastically lower the bar for the average users to access the Internet securely, without being monitored
The day's programme concluded with a RIPE Academic Cooperation Initiative (RACI) session and a Network Operators Forum (NOF) BoF. Attendees unwound after a busy day at the Party at the Jewel Piccadilly, sponsored by LINX.