Attendees checked in so far: 573
Day three of RIPE 69 marked the first day of RIPE Working Group (WG) sessions. The morning sessions included the Address Policy Working Group, the Open Source Working Group and the Connect Working Group. Highlights included:
Address Policy:
Discussions on a number of open policies, including inter-RIR transfers, relaxing the IPv6 requirement for /22 allocations, removing the multi-homing requirement for AS Numbers, and IPv6 and AS Number transfer policies
If consensus is reached, a new proposal will be created to combine the IPv4, IPv6 and AS Number transfer policies into one single "Internet number resource transfer policy".
There are around 70 cases of organisations opening new LIRs, requesting /22 allocations from the last /8, and then transferring these allocations and closing the new LIR. The WG decided it would work on a policy to establish a two-year holding period for these /22 allocations in which they cannot be transferred.
Open Source:
Updates on ExaBGP (current release considered stable), BIRD and Quagga (several patches to improve and people wanted these in the code)
Discussion about the process for selecting new WG chairs; discussion to continue on the mailing list
Connect:
A look at the social aspect of interconnection from RACI attendee Uta Meier-Hahn, Alexander von Humboldt Institute for Internet and Society
"Keep Calm and Focus on Prefixes": best practice sharing and how to get the most out CDNs
The afternoon's sessions included Anti-Abuse Working Group, MAT Working Group and RIPE NCC Services. Highlights included:
Anti-Abuse:
A look at RIPE NCC security outreach activities
Tor censorship counter-measures and how you can help
An active question and answer period following Tomas Hlavacek's presentation about rom-0 vulnerability in SOHO routers
MAT:
A comparison by Randy Bush, Internet Initiative Japan, of RIPE Atlas and NLNOG RING nodes as platforms for measuring global average RTTs. His conclusion? "These probes are just the size of my thumb, and they're not bad!"
An overview of OpenIPMap, an open and crowdsourced project to map IPs and hostnames to geographical locations, which is now included in RIPE Atlas' new traceroute results interface.
RIPE NCC Services: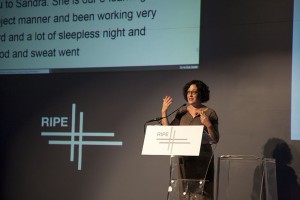 RIPE NCC Executive Board members Salam Yamout and Maria Häll introduced their initiative for RIPE NCC services to support the good of the Internet and asked for community feedback
2007-01 almost completed
Launch of RIPE NCC Academy
Comments from attendees about the desire to have a unified process for WG Chair terms
Requests for the RIPE NCC to create guidelines to raise awareness of best common practices when transferring resources to minimising risk of hijacking and to send an update on 2007-08 implementation to the RIPE NCC Services mailing list
Hope you all enjoyed the night off and saw some fireworks for Guy Fawkes night!